I'm not sure if you've noticed, but most of my recipes don't contain any dairy products. For the past month and a half, I have been experimenting with a dairy free diet. I did this for a number of reasons.
Dairy is an incredibly controversial food source. Many health nuts preach the negative effects of a diet that includes dairy. They say that the body can't properly digest it.
I wanted to try to live by a diet that included limited grains and natural fats, and unlimited plant food.
A dermatologist told me that dairy is often the cause of skin problems. I suffer from break-outs and wanted to see if cutting dairy out would clear up my situation.
After more than a month of going dairy free, here is what I found:
I didn't miss dairy a ton, but I CRAVED fat. All I wanted was avocado, nuts and Sunbutter
I had trouble with digestion (use your imagination, things weren't moving)
I felt like I needed more protein
My skin didn't show any real change
My Conclusion: I process dairy just fine. I really enjoy it in limited portions. I feel satisfied, my body feels good, and I don't have serious cravings. So, with that said, I've decided to reintroduce it into my diet.
Some people may think this is a bad idea, but I am a firm believer in "Bio-individuality". This is the idea that everyone's body is different. Everyone needs different sources of fuel to function and feel GOOD.
Tonight after rehearsal I enjoyed this fast, simple, and filling treat. If you are a dairy eater, try it out :)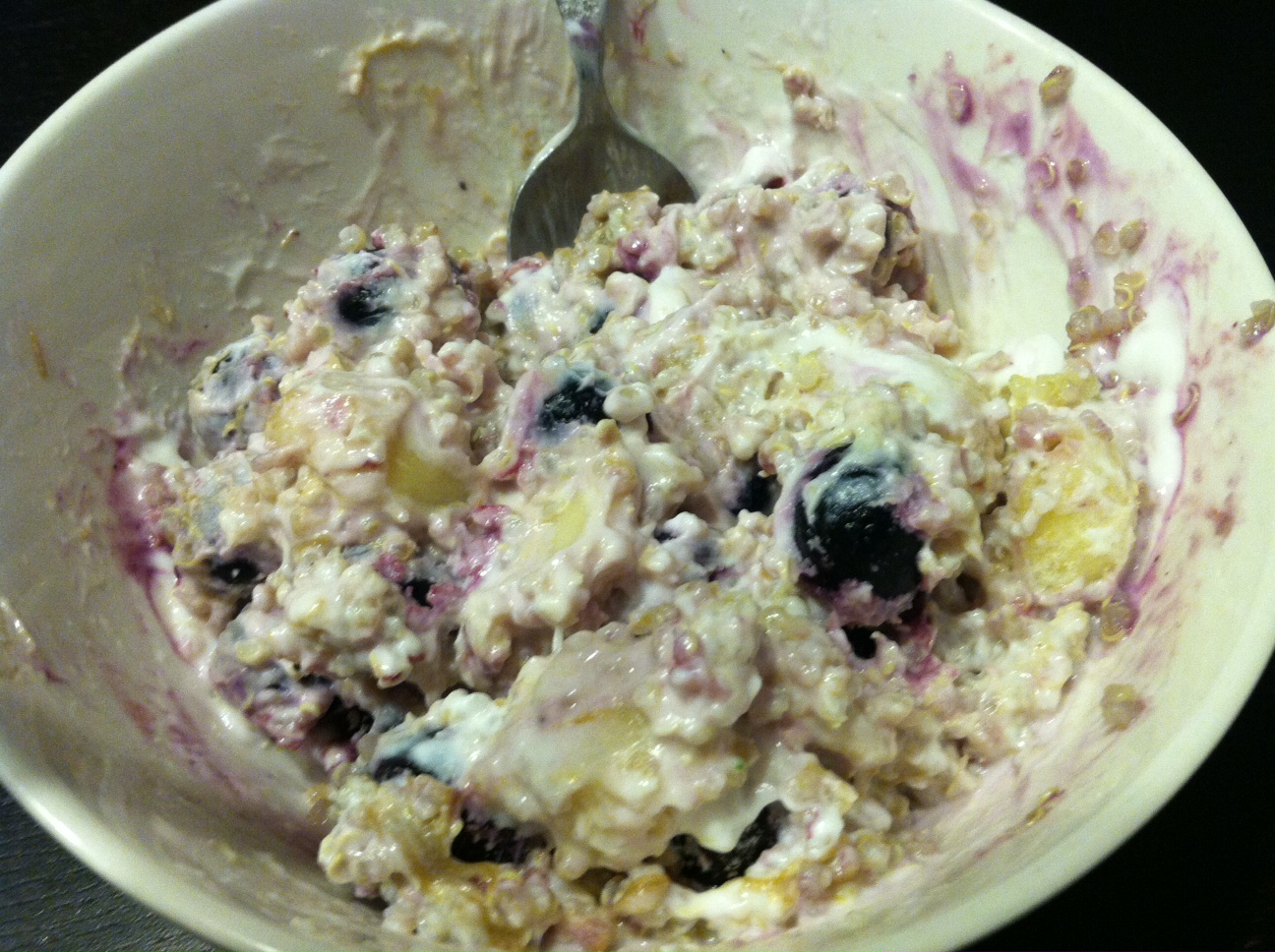 Greek Yogurt PBQ Bowl
1/2 cup 0%fat greek yogurt
1/2 frozen banana sliced
1/3 cup frozen blueberries
1-2 TBS quinoa
1/2 TBS Sunbutter (or nut butter of choice)
2 packets stevia
Combine yogurt, sunbutter and stevia in a bowl. Mix well. Add fruit and quinoa. Mix again. Enjoy!!
xoxoSYN