I love Italian food. I mean who doesn't? It's nearly impossible to resist a dish smothered in sauce and dripping with melted cheese. My mouth is watering just thinking about it. Unfortunately, traditional italian fair is usually loaded with extra fat and calories. Not a healthy eaters haven…:(
Fortunately, there are tons of ways to enjoy your favorite saucy dishes without living with post meal guilt. You can indulge in Guilt free Alfredo "Pasta", or a Creamy Red Pepper sauce, or even make your own Guilt Free Pizza. Tonight none of those would cut it for me. I had an unrelenting craving for my all time favorite italian meal
Eggplant Parmesan.
Seriously, I could eat this stuff in bulk. I remember ordering it from our local italian restaurant as a kid, and never thinking twice. Sadly, eggplant battered with bread crumbs and lathered in cheese is not something I can eat these days.
I decided to come up with my own substitute for Eggplant Parm, and I WAS NOT DISSAPOINTED!!! Surely it isn't exact, but it does the trick. Best of all, it is TOTALLY guilt free :)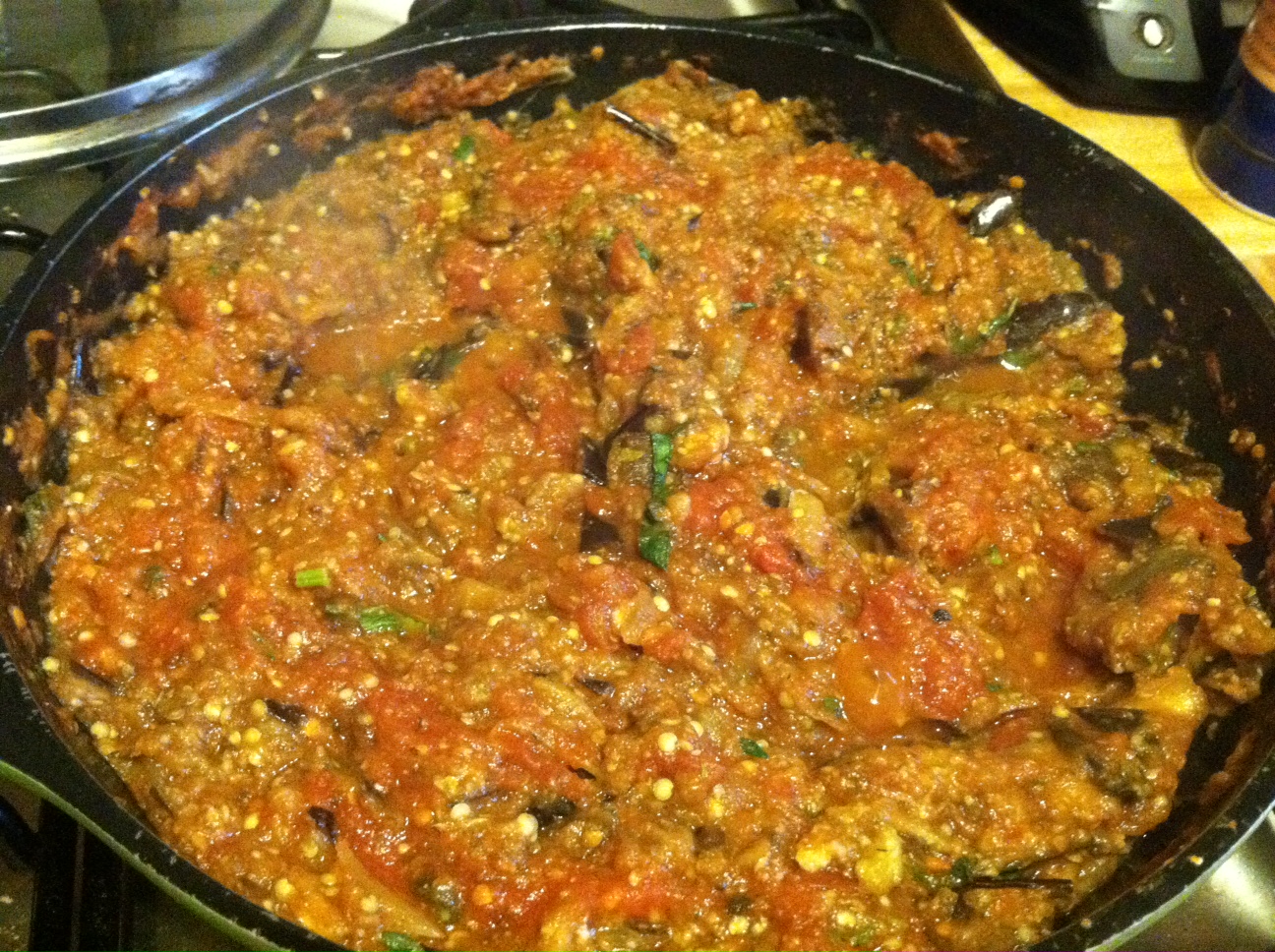 Eggplant Parm Dip
2 medium-sized egg plants (purple)
1/4 cup chopped basil (fresh)
2-3 cloves chopped garlic
1/2 small onion chopped
16 oz can of whole peeled tomatoes (or half a 28oz can)
1/4 cup parm. cheese
1/2 tsp garlic powder
1/2 tsp dried oregano
1/2 tsp thyme
1/2 tsp salt
1/2 tsp paprika (I used smoked)
ground pepper
Olive oil spray or pam cooking spray
**If you are missing any of these spices, not to worry, it will still come out perfectly fine!
Step 1: Preheat oven to 450. Slice eggplant long-ways (top to bottom) into flat sheets (about 4 per eggplant). Spray a baking sheet and lay each piece flat (they can overlap). Spray the eggplant and Bake for about 30 minutes or until they are soft. Take out of the oven and let cool for about  15 minutes.
Step 2: With Kitchen sheers, cut eggplant into small pieces and transfer to a food processor (I used a magic bullet but anything shout work). Blend until mostly smooth, but some chunks should remain.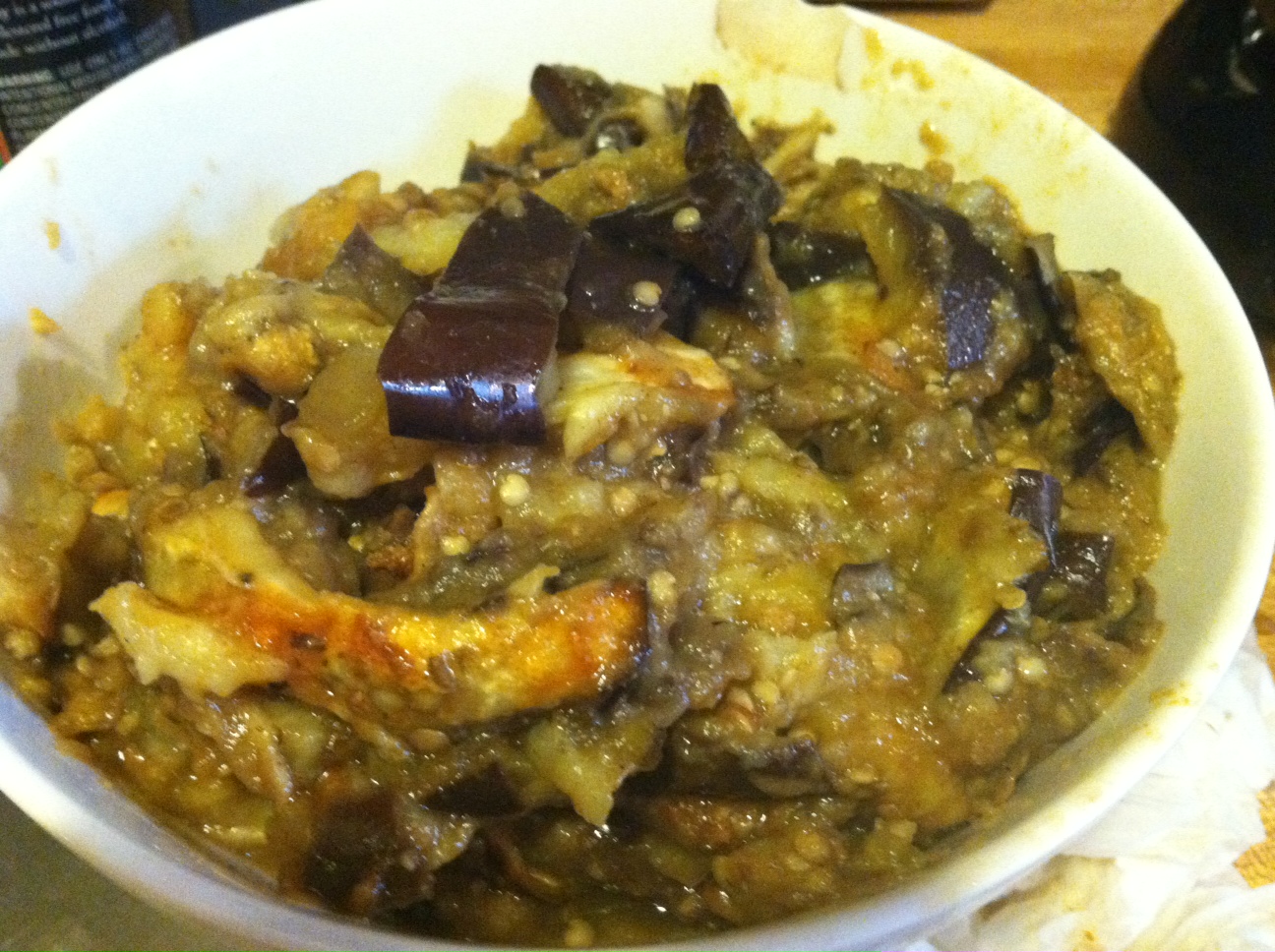 Step 3: Spray a pan, and cook garlic and onion with 1 TBS water for about 2 minutes. Transfer eggplant to the pan. Next, transfer tomatoes and liquid to a separate bowl. Mash the tomatoes and transfer them to the pan. Mix everything up. Add all spices, parm. cheese, and basil. Let simmer for about 20 minutes. Turn off heat and leave covered to sit for about an hour.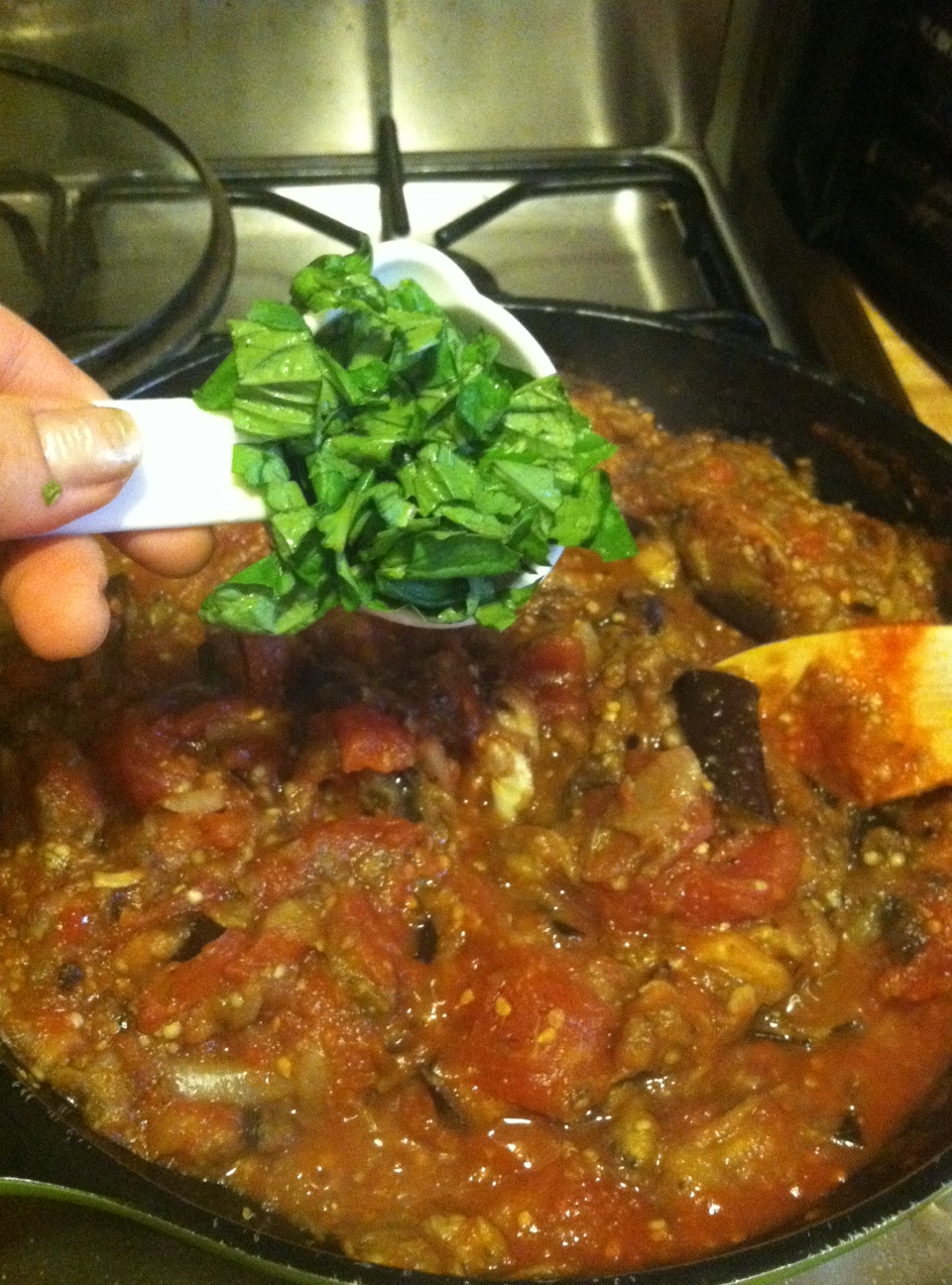 Step 4: When you are ready to eat it, add 1/4 cup non fat cheese, non-dairy cheese, or 1 low fat string cheese before you reheat it. ENJOY!
This stuff is everything you want it to be. Cheesy, saucy and delish :)
Serve over:
1/4-1/2 cup quinoa or brown rice
Steamed broccoli
any steamed veggies
Dip raw veggies in it (baby carrots, celery, broccoli etc)
top a gluten-free wrap
or just eat it plain! (which is what I do)
hope you like it  and I hope you had a fantastic labor day!
xoxoSYN