Hello all!
Well, Bullets Over Broadway is officially closed. It's always sad when something wonderful comes to an end, but there are always the fantastic memories that come along with every experience.
Here is a photo of my tremendous cast, along with our director (shes amazing) Susan Stroman.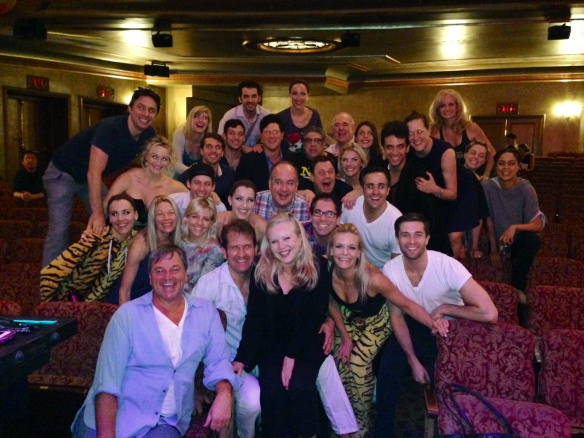 So flywheel has been fantastic. I'm loving instructor training, and the people who work there are all so kind and supportive. I feel really lucky to be coming into such a cool community of like-minded people. I'll let you all know when my practice rides are…Please come!!!
(if you haven't checked out Flywheel, do yourself a favor and take a class… they are ridiculous in every way.)
When we work out really hard, it is crucial to remember to provide our bodies with the correct recovery foods. Many people think the way to lose weight is to work out really hard, and then not eat anything. WRONG. The body isn't stupid… if it doesn't get what it needs, it will hold onto every little calorie that we introduce. That is a sure way to mess up your metabolism and completely thwart any weight loss goals. One of my favorite ways to recharge after a great workout is a smoothie. It's a great way to get Electrolytes, greens, protein, fruit and super foods!!!
My new favorite recovery smoothie:
Mint Chocolate Chip Recovery Smoothie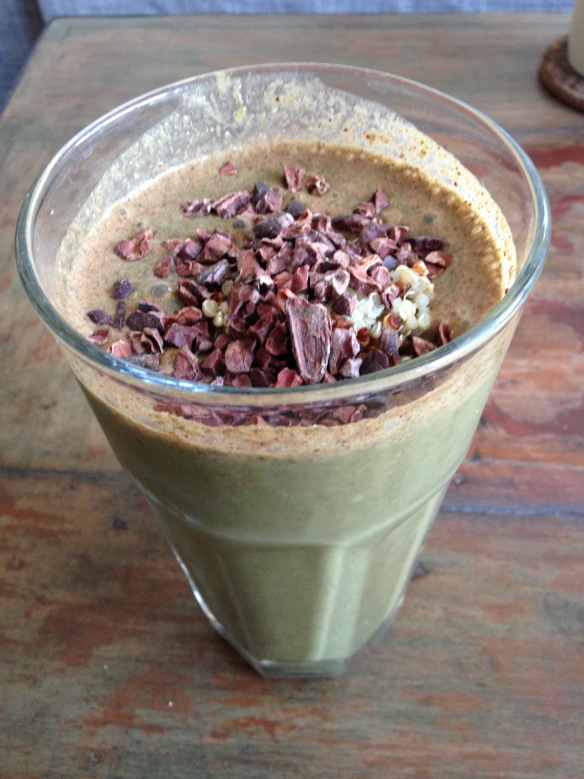 1 cup Coconut milk
1/3 cup coconut water
2 TBS protein powder (I use vanilla rice protein)
1 large or 2 small mejool dates
1 TBS cacao nibs (Plus One Tbs for topping)
2 tsp chia seeds
1 tsp mint extract (start with 1/2 and add the other half if you want it mintier!)
1-2 TBS cacao powder
Kale (as little or as much as you want… I use about one cup)
1/2 tsp vanilla extract
pinch of sea salt
8 drops liquid stevia (1-2 packets stevia)
1 TBS Hemp seeds
Optional 1 TBS  quinoa
Optional: 1 tsp spirulina powder
Ice
Combine all ingredients (except 1 TBS cacao nibs, hemp seeds, and quinoa). Blend until smooth! Top with remaining cacao nibs, hemp seeds and optional quinoa. ENJOY!!!
I've literally had this smoothie every day for a week..
Until next time!!
xoxoSYN