People say that they don't cook because they don't have time. It is much easier to pick up the phone and order, or to get in the car and drive through. Eating out doesn't have to equate to unhealthy food. Sometimes, there are considerably healthy options when you are ordering from an establishment. In my opinion, it is absolutely alright to order out once in a while, but it is crucial that we cook our own food the majority of the time.
For one thing, eating out is EXPENSIVE. It is really east to spend $15.00 on a single meal. A home cooked meal will more than likely cost you half that amount.
When we cook our own food, we have complete control. We know exactly how much of each ingredient we are putting in. We can add extra greens, omit excess salt, and make sure that the dish has JUST enough spice :)
If time is of the essence, make sure you are prepared! Here are a few suggestions on how to make home cooking easy and fast :
Frozen vegetables: Open the bag, spray a pan, cook…Voala! Veggies cooked in under 5 minutes
Pre-cook grains: Whenever I cook quinoa or brown rice, I make enough to last me for the week. Put it in a Tupperware and store it in the fridge. It re-heats really quickly, and you don't have to waste your time making and remaking the same thing.—-(Use About 3 cups of water to 1.5 cups of grain when cooking)
Easy Proteins: When I'm in a rush, my go to proteins are: eggs, black beans, and frozen shrimp. Eggs can be cooked in a mug (spray with cooking spray, pour 1/2 cup egg whites and microwave for 1 and a half minutes). Beans can be thrown on anything, and frozen shrimp cook in about 5 minutes.
Here is my favorite quick meal. It is satisfying, fast, and extremely cost-effective :)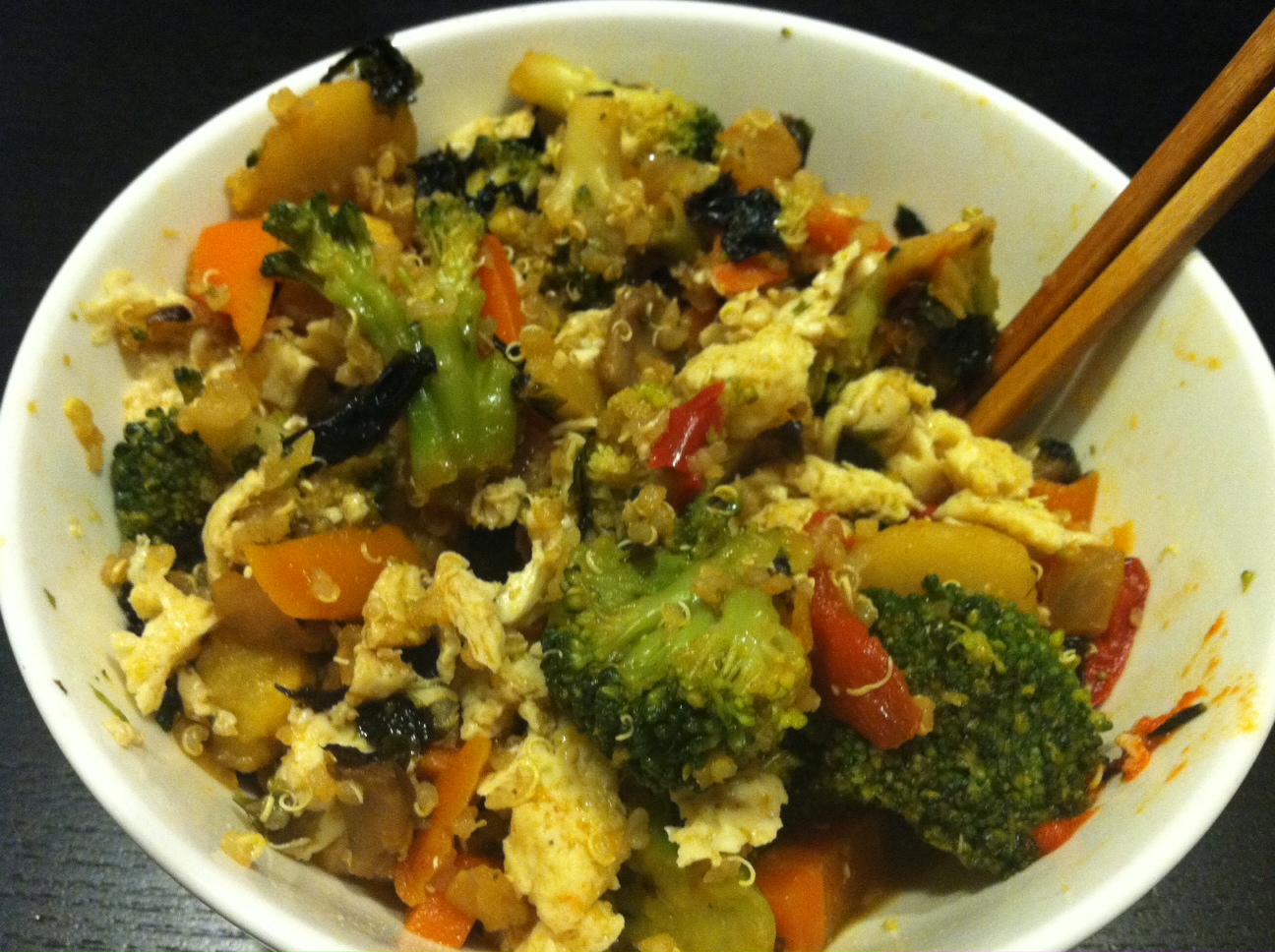 Vegetable "fried" Quinoa
1/2 cup liquid egg whites (or 3 whole egg whites)
1/2 bag of frozen veggies (I used asian blend)
1/4 cup quinoa
1 tsp toasted sesame oil
1-2 cloves of chopped garlic
2-3 tbs soy sauce
3 tbs water
optional: fresh chopped ginger, sriracha sauce
Spray a pan with Non-stick spray. Cook veggies and garlic with 3 tbs of water (cover for about 3 minutes). While veggies are cooking, spray a coffee mug with non-stick spray, and microwave eggs for about 1 1/2 minutes.  Chop the egg whites into small pieces and add along with  soy sauce and quinoa to pan and stir. (Add optional sriracha).
Transfer to a bowl, stir in sesame oil, use chopsticks (because they are fun) and ENJOY!!!
Food cooked at home always tastes better :)
xoxoSYN