First, I want to start this post with a shout out to spin class.
If you haven't figured it out yet, I am a workout nut. I love the feeling of getting a good sweat on, especially in the morning. Today, I took a kick ass Soul Cycle Class with the instructor Rique. If you live in the NY area and haven't taken his class PLEASE DO. In my opinion, Soul Cycle is always an amazing experience, but this guy is life changing. It is nearly impossible to get into his class, but if you can, go for it. YOU WILL NOT BE disappointed!
Anyway, after I returned from my cycle sesh, I was starving. Oatmeal is always my go to breakfast. It is a fantastic source of slow release carbs. This means the glycemic load of oatmeal doesn't force your blood sugar to SKY ROCKET like a white refined carb would. It keeps you full and satisfied for a long time. Also, it is a surprisingly good source of protein. With 6 grams in one cup of cooked oatmeal, you can't go wrong. 6 grams may not sound like a lot, but it is definitely going to add to your protein count for the day.
My favorite oatmeal is Chocolate Oatmeal. I enjoy it nearly every morning. I mean common, who doesn't love chocolate?! For some reason, I wanted something different. As I thought of about a creative oatmeal idea, I made some coffee. Yummm Coffee…
….Coffee Oatmeal?
yup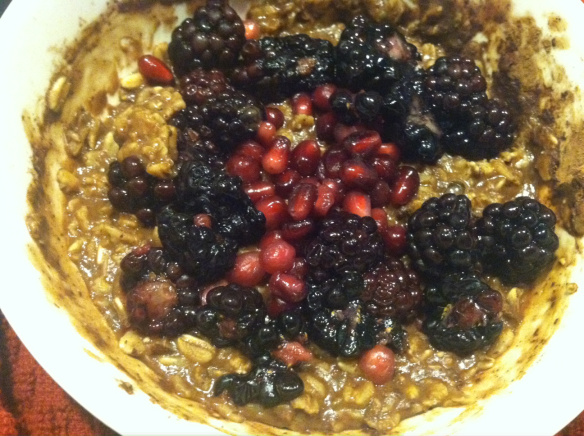 Mocha Oatmeal
1/2 cup dry rolled oats
3/4 cup water
1/4 cup milk of choice
1 TBS cocoa powder
2 packets stevia
1/2 tsp chia seeds
1 tsp vanilla
1 tsp instant coffee (I use trader Joes brand)**
fruit of choice (Berries are my fave)
Mix all ingredients **EXCEPT Coffee and cocoa powder** in a large bowl and microwave for a minute and a half. Stir and microwave for another minute. Keep a close eye on it.. make sure it doesn't spill over while microwaving!!! Stir in cocoa and coffee, Top with berries and ENJOY!
**If you don't have instant coffee, try omitting water and subbing 1/2 cup fresh brewed coffee and 1/2 cup milk of choice. I can't vouch for the results, but it may work :)
I was pleasantly surprised by how good this was! Just goes to show that experimenting in the kitchen can lead to new favorites!!!
xoxoSYN