It's almost 2015!!! Suddenly, your Facebook news feeds are flooded with "detox" this "cleanse" that, and every "proven" diet under the sun. Realistically, there is nothing wrong with giving your body a Boost of healthy foods, but to see any sort of long-term effect, there has to be a total lifestyle change.
Here are some tips to get you started!!
1)Write it down- If you eat it, you write it. It is amazing how much we don't realize we are eating. Seriously, I dare you! Try writing EVERYTHING you eat down for 3 days. You will be both amazed and surprised at how often you mindlessly eat. You also may discover that you aren't eating in a balanced way (ie. where are those green veggies, or WOW I ate so many carbs.)
2)Commit to your veggies- We love them, we hate them, we can't get enough of them. Make sure that you are eating tons of veggies. Kale, carrots, beets, spinach, artichokes, cucumbers…etc etc. There are a variety of amazing vegetables that you can learn to love. Try a new vegetable.. You may love it!! They are high in vitamins and minerals. Help boost your fiber, aid in digestion, and are essentially the best foods you can put into your body.
(note: while avocados are amazing, they can't be eaten endlessly ( sad face inserted here….!)
3) Fat doesn't make you fat!- So many people are terrified of eating fat. I'll admit, I was too. It is not fat that makes us fat, it is the type of fat. Healthy fats high in omega 3's such as avocados, salmon, and nuts actually can help you lose weight. They aid in absorption of nutrients and allow you to stay full for a longer period of time thus preventing over eating. Throw some sliced avocado (1/4-1/3 of a medium-sized avocado) over a salad. Enjoy 1 TBS pistachios as a snack, or add 1 TBS almond butter to a smoothie. :)
4) Be Kind to yourself- There are a million articles and websites claiming that they have the key to weight loss success. The truth is, everyone is different, and diet that works for your friend may not work for you. My suggestion is to listen to your body. Be aware of how you are feeling, and respond accordingly. Also, remember to BE KIND TO YOURSELF. Patience is key, and these self discoveries don't come over night.
If you are interested in working with me please feel free to email me! ( session can be held via phone or Skype as well!)
ONTO THE RECIPE!!!
Who doesn't love soup on a cold winter day???
Here is my new favorite recipe for soup.. ENJOY!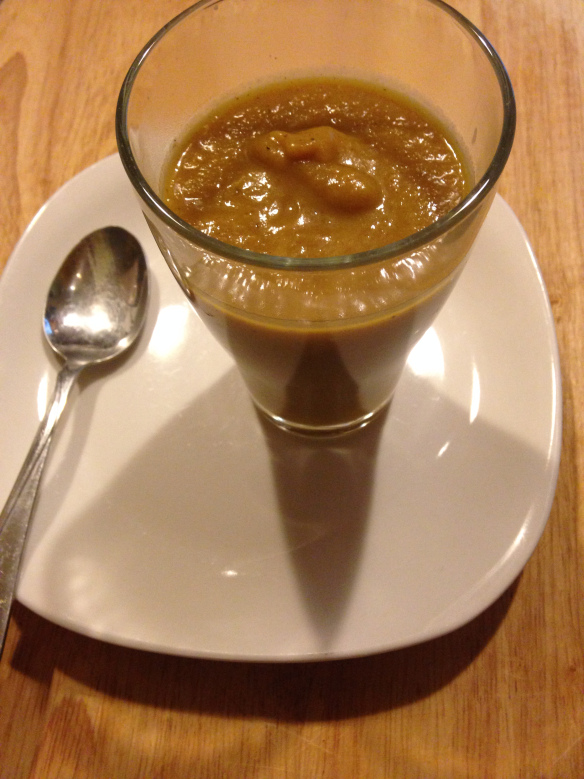 Butternut Squash Curry Soup 
1 TBSP coconut oil
2 medium butternut squash (cut lengthwise, roasted, and seeded)
1 large onion chopped
1 bell pepper (pref. red, yellow or orange) chopped
1 jalapeño pepper (seeded and chopped)
4 garlic cloves minced
2 inches fresh ginger peeled and minced
3 tsp garam masala or curry powder
1/3 cup coconut milk from a can
3/4 cup coconut milk from box
2 cups vegetable broth
salt and pepper to taste
(optional: sprinkle of cayenne pepper if you like it really spicy!)
preheat oven to 375 and roast butternut squash face down on a baking sheet for about 40 min or until soft (spray sheet with cooking spray to prevent sticking!)
While the squash is roasting, heat a pot with 1 TBSP coconut oil, garlic, onion and ginger for about 10 minutes.
Next, add the bell pepper and jalapeño and cook for another 10 minutes stirring frequently.
Add the broth, coconut milk (both kinds) garam masala, salt and pepper. Turn to low heat for another 10 minutes. Remove from heat until the squash is done (keep covered).
Once the squash is ready, remove the skin and seeds. Cut the squash into cubes and add to the pot.  Simmer for another 30-35 minutes.
Lastly, puree the soup in a blender. Make sure you do it in small batches to ensure that you get a smooth and creamy texture!!!!
ENJOY!!!!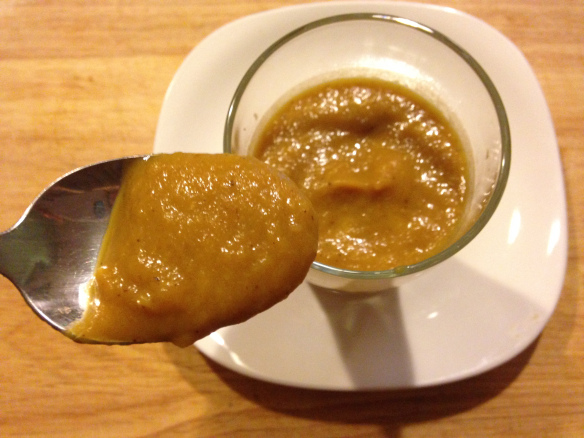 xoxoSYN