Hey ALL!!!
Sorry about the no-show. I have no excuse other than I haven't been inspired to cook or post lately.
Before I post an INSANE recipe for Butternut squash Chili (yea get excited), I want to shine some light on the importance of tracking. During the holiday season, we often mindlessly eat. It is so easy to pop a cookie into our mouths, lick our fingers while we are baking, or sneak an extra helping… or three.
Keeping a log of the things that we eat (including how much) enables us to be aware of how much food we are putting into our bodies.
EXAMPLE:
Breakfast: 1/2 cup oatmeal
1/2 banana
1/2 cup blueberries
stevia
1 tsp chia seeds
1 TBS Almond seed butter
LUNCH
green salad
4 oz salmon
1/4 avocado
1 cupcake
Now it's time for dinner. Seeing that CUPCAKE after lunch may help you make a different choice for your last meal of the day. The physical act of writing it down makes all the difference. It forces you to face your choices and to acknowledge them while making your future decisions.
TRY IT!
Now, as promised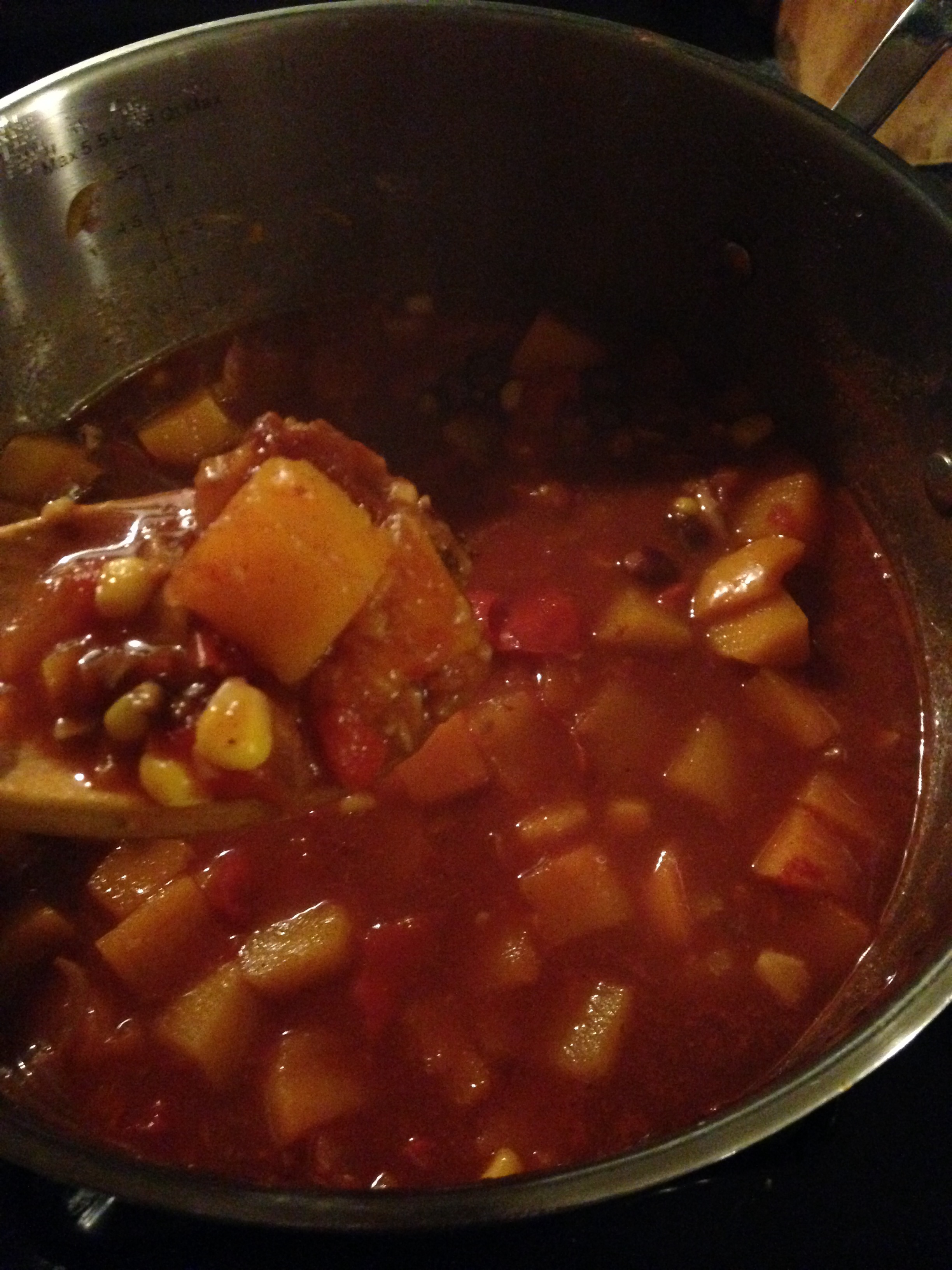 BUTTERNUT SQUASH CHILI
1 medium white onion, chopped
2 red bell peppers, chopped
6 mini Portobello mushrooms, chopped
1 small butternut squash (1½ pounds or less), peeled and chopped
4 garlic cloves, pressed or minced
1tablespoons olive oil
sea salt (I never use lots of salt, so this depends on your desired taste)
1 tablespoon chili powder
1 teaspoon ground cumin
1-3 chopped chipotle chili pepper in adobo, 2 tbs adobo juice* (I used more.. I love spicy… start with less, you can always add more)
1 bay leaf
¼ teaspoon ground cinnamon
12-ounce can diced tomatoes, including the liquid**
1/4 cup water
1 can black beans (rinsed and drained)
1 can unsweetened corn
14-ounce can (about 2 cups) vegetable broth
In a large pot, combine all chopped vegetables: (Onion, pepper, butternut squash, mushroom, garlic) and one TBS olive oil plus 1/4 cup water. Cover and cook for about five minutes stirring half way in-between. (on medium flame)
Add the rest of the ingredients and stir. Reduce heat, cover for about an hour and stir occasionally. You will know when your chili is done by the tenderness of the butternut squash.
Enjoy with 1/4 avocado!
xoxo SYN