Let me tell you a bit about the guy I'm going to marry! Keith is from Texas.  Therefore, Keith loves spicy food. I'm not saying the two go hand in hand, but I must admit that Texas knows how to do spicy food right. Before dating him, I never ate anything spicy. In fact, I absolutely hated anything that would leave me with a burning mouth. Now, I can't get enough! I've even found myself searching for ways to make my already spicy food spicier! I blame Keith. I also thank him.
One of my favorite spicy foods is Kimchi. Never heard of it? Kimchi is sort of like a Korean sour kraut. It's actually fermented cabbage, but some people think that sounds disgusting. In reality, this stuff is great. It's got a really distinct spiciness that adds a gorgeous flavor and texture to food. I really wanted to highlight this stuff because a) its awesome b)more people should know about its awesomeness!
 The other day, my friend Julianne came over and said that she wanted to help me whip up a Cookies to Kale creation! I thought that spring rolls would be perfect. They are fun and easy to make, plus they are satisfying without being overly filling. I think they are a perfect mid day snack or meal. After making these, we decided that they would ideal to bring to a party! Complete with a sweet mango coconut dipping sauce, these spring rolls are winners! Plus, they are spring rolls, which means that spring is almost here!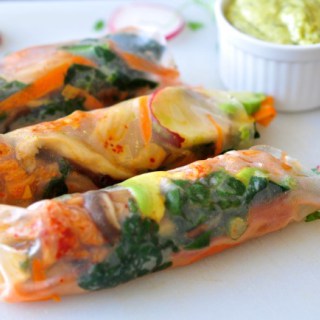 Kimchi Kale Spring Rolls with Coconut Mango Dipping Sauce
This Kimchee Kale Spring Roll recipe is perfectly balanced. The spicy rolls, and sweet dipping sauce perfectly compliment each other to create a gorgeous flavor combination! vegan, vegetarian, gluten-free, sugar-free
Recipe type:
Vegan Spring Rolls
Ingredients
FOR THE ROLLD
3-5 spring/summer roll wraps
3 TBS water
½ cup shiitakee mushrooms sliced
1 cup kale chopped
2 TBS soy sauce
½ clove garlic minced
RAW INGREDIENTS
½ avocado sliced
⅓ cup kimchi
radish sliced
carrot julienned
cilantro chopped
FOR THE DIPPING SAUCE
½ cup mango cubed (fresh or frozen)
1 TBS cilantro chopped
2 TBS lite canned coconut milk
½ tsp sesame oil
½ TBS lime juice
2-3 TBS boxed coconut milk
½ TBS soy sauce
Instructions
Spray a pan with nonstick cooking spray
Add kale, mushrooms, garlic, water, and soy sauce. Cook over medium heat until veggies are soft
Prepare raw ingredients
Soften wrappers according to package directions
Layer veggies onto wrappers, roll, and allow to set (see note for specific instructions)
FOR THE SAUCE
Add all ingredients to a blender
Blend on high until completely combined
Serve at room temperature
ENJOY!
Notes
*Quickly submerge wrappers in water
Lay flat on a plate (still wet)
Sticking to one side of the wrap, layer veggies. Don't overfill!
Starting at the veggie side, carefully roll, eventually closing
Be sure to seal the edges of the wrap
Allow to sit for about 5-10 minutes to allow water to dry and rolls to set

*You may need to adjust filling measurements depending on how big you make your rolls!!
These are a new fave of mine. The spicy rolls and sweet dipping sauce perfectly compliment each other. They are also super healthy, vegan, gluten-free, refined sugar-free and low-fat! Besides, if you make spring rolls, the warm weather will come sooner. It's a fact.
**I've been told that normally spring rolls are fried and summer rolls aren't, but I liked that way Kimchi Kale Spring Rolls sounded! Besides, I made them so I can call them whatever I want

hehehehe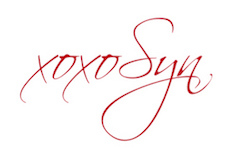 (Visited 1,396 times, 4 visits today)