I have a confession to make. I am a junk food junkie! I grew up loving all things "Junk food." My favorite foods included pizza, ice cream, pasta, burgers and cookies! Thankfully, in my wiser years (if those even exist) I have learned that although I can't eat these sorts of foods in abundance, I can substitute healthy alternatives like: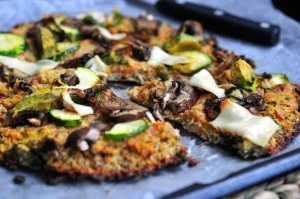 Around this time of year, one of the most popular cookies are Samoa Girl Scout Cookies. I mean come on, these things are genius! Caramel, toasted coconut, chocolate all on top of a delicious little cookie? In my opinion, this dessert is absolutely perfect.
Since I have been seeing Samoa Cookies just about everywhere, and have had some friends ask if I had a healthy version of these bad boys, I decided to make Cookies To Kale approved Samoas!  I thought about making healthy cookies, but realized that it isn't necessarily the cookies that I love, but the flavor combinations. I thought that a delicious bowl of dessert for breakfast would be better!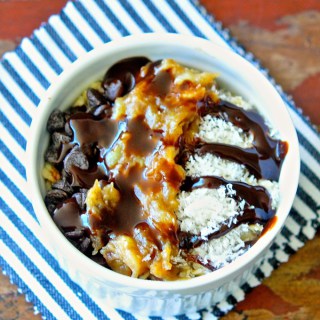 Yup, this bowl of delicious flavors and textures is just as good, if not better than one small cookie. Think about it. A cookie is there, and then gone in just about 2 bites. Oatmeal lasts longer, and you can enjoy your Samoa Cookie for an entire breakfast!
WARNING: This oatmeal is addictive, and will leave you with a goofy childlike smile. You've been warned.
Samoa Cookie Overnight Oatmeal
This delicious Samoa Cookie Overnight Oatmeal recipe allows you to enjoy a healthy version of your favorite treat! Vegan and refined sugar-free. A simple caramel sauce, using ingredients that you already have in your pantry completes this delicious dessert oatmeal!
Ingredients
OATMEAL
½ cup oats
1 cup water
3 TBS Canned lite coconut milk*
3 TBS unsweetened coconut
½ tsp chia seeds
1 packet stevia
2 TBS chocolate chips
Optional: melted magic shell
additional 1 TBS toasted coconut
HEALTHY CARAMEL
½ banana mashed
1 medjool date soaked and mashed
1 tsp maple syrup
½ tsp maple syrup extract (optional)
½ tsp honey
pinch of salt
Instructions
In a bowl, combine oats, water, stevia, salt and chia seeds
Microwave for about 1-1/2 minutes (watch to make sure oatmeal doesn't spill over the bowl!)
Place medjool date in a small bowl of warm water and allow to sit for five minutes
Spray a pan with nonstick cooking spray
Add 3 TBS coconut to pan, a bit of salt, and turn flame to medium heat
toast for about 1-2 minutes (coconut will turn a light brown color, make sure it doesn't burn!)
In a jar or tupperware, combine oats, toasted coconut, and 3 TBS coconut milk, cover and put in fridge
Now make your caramel: Drain water from date bowl, take soaked medjool date, and using your hands, mash it
Add ½ mashed banana and to the bowl and mash together trying to remove as many lumps as possible
Add remaining caramel ingredients and combine completely *
Put in the fridge overnight to set
In the morning, transfer oatmeal to a bowl, top with caramel, chocolate chips, optional magic shell and additional coconut
ENJOY!
Notes
*The canned coconut milk has a stronger coconut flavor. Coconut creamer would work as well. If you don't have either, simply use milk of choice, but you may lose that coconut flavor!
*I tried making my caramel in a food processor but mine was too big to blend ingredients for a single serving of caramel. Yours may work and would ultimately create the same thing.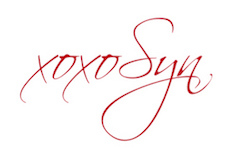 (Visited 2,116 times, 1 visits today)