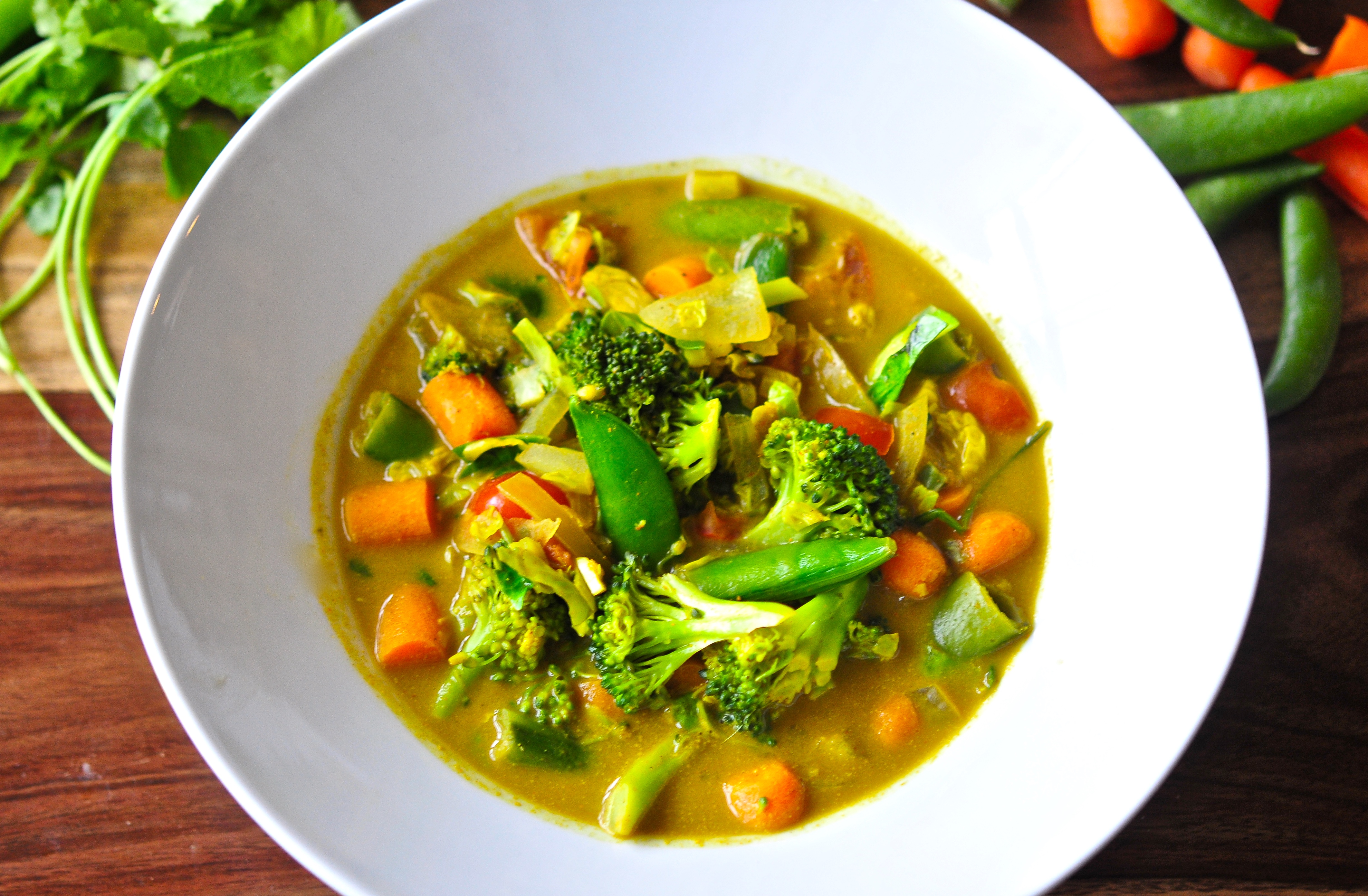 Sometimes inspiration hits you like a burst of lightning! Other times, friends specifically ask you if you can make a "Synthia" approved curry. That's where this recipe came from. I will admit, I have been having some trouble coming up with new recipes. I've created a few in the last few weeks that just didn't seem post worthy. I am so incredibly glad that my friends (shout out to CJ and Mandy!!!) asked me to make this bad boy. Now, I am no curry expert, but I can shamelessly say that it is really yummy!!! I tried to use minimal ingredients so that the spices could really be the focus of this dish. While most curries are high in fat, this one utilizes very minimal healthy fats. Instead of canned coconut milk, I used boxed, which has significantly less fat. I also used a touch of sunflower seed butter to mellow out the heat. This low fat thai curry is delicious right out of the pan, but if you let it sit overnight (in the fridge) and allow all of the flavors to meld together, it is OUTRAGEOUS!!! I think I can honestly say that I am obsessed with this recipe. It was super easy to make; perfect for anyone who isn't confident in the kitchen. You can also level out the spices to create your personal perfect curry. I love spicy (I blame my husband) but you can easily alter the intensity of spice to your liking.
Low Fat Thai Curry
This recipe for Low Fat Thai Curry is absolutely delightful. A beautiful combination of spices helps to create a gorgeous flavor kick! Low fat, vegan, paleo, gluten free, sugar free, and satisfying!
Ingredients
½ cup carrots diced
1 cup broccoli chopped
½ cup snow peas cut in half
2 cloves garlic minced
½ cup onion chopped
½ cup tomatoes diced
1 cup shaved brussels sprouts (see note)
1 TBS curry powder
¼ tsp turmeric
1 tsp ginger powder (or fresh ginger)
pinch of salt
cayenne pepper (to your liking)
1 TBS chopped cilantro
1 TBS Sunflower seed butter (or almond butter)
juice of half of a lime
1 cup veggie stock
1 cup boxed coconut milk-unsweetened (such as SoDelicious brand)
Instructions
in a large sauce pan over medium, combine carrots, broccoli, snow peas, onion, garlic, and vegetable broth. Cover and allow veggies to become soft (about 5 minutes)
Uncover and add tomatoes, brussels sprouts, coconut milk, curry powder, turmeric, ginger powder, sunflower seed butter and lime juice. Stir to mix completely (make sure sunflower seed butter is completely dissolved). Turn flame to low- cook for another 4-5 minutes.
Add cilantro. Stir to mix completely
Enjoy!!!
Notes
I bought brussels sprouts pre shaved from trader joes!
to shave, thoroughly chop sprouts until the leaves remain.
you could also replace the shaved sprouts with shredded cabbage!
I really loved making this, and I hope you all try it out! As I said, I made it because my friends asked for it… and I loved being inspired by them! If you have any requests please leave a comment and let me know! If I can swing it, I will attempt it!
(Visited 1,651 times, 3 visits today)