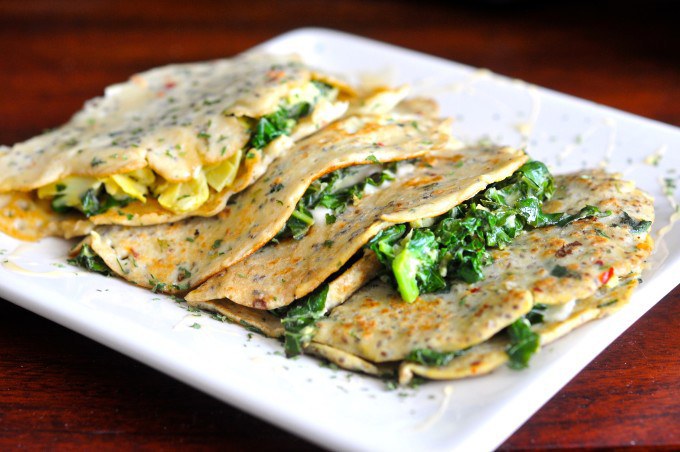 Crepes….they're awesome. I don't eat them often, but whenever I do, I am reminded of how comforting and delicious they are.
This morning, it was snowing, I was freezing, and I had a random craving for crepes. I haven't gone to the grocery store lately, and I am really low on fruit right now.  I looked in my fridge. I saw that I had kale and artichoke hearts, and got my creative brain thinking.
Savory Crepes? Well, that sounded ridiculously yummy. Yes, I would make savory vegan crepes. Now what….
Well, I love spinach and artichoke dip, so why not create a filling using kale, artichokes, and my recent favorite: Tahini with a drizzle of honey and lemon?
These sounded amazing in my head… now to execute.
The verdict? OMG AMAZING. How do I know? My fiancé Keith ate them ALL. Every last bite.
Normally he will taste my "healthy" recipes, appreciate them, and even admit that they are really tasty! Then he will ask me to make him pigs in a blanket…(it's a work in progress)
The fact that he not only liked these, but LOVED these got me really excited!!!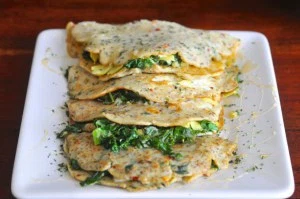 Savory Vegan Crepes
These little beauties are delicious for breakfast, lunch or dinner! Drizzle honey on them for the perfect bit of sweet to savory ratio.
Ingredients
FOR THE CREPES
⅓ cup quinoa flour
⅓ cup milk
1 chia egg (see note)
¼ tsp baking powder
¼ tsp dried rosemary
¼ tsp dried parsley
½ tsp fresh basil chopped
⅓ cup water (add a TBS or two more if batter is still thick)
½ TBS nutritional yeast
⅛ tsp salt and pepper
optional: red pepper flakes
FOR THE FILLING
1 cup kale chopped
½ cup artichoke hearts chopped
½ TBS lemon juice
1 garlic clove minced
2 TBS coconut milk
2 TBS nutritional yeast
1 TBS tahini
½ tsp honey
Pinch of Salt
additional ½ tsp honey for drizzling
additional 3 TBS vegan cheese
Instructions
FILLING
Spray a pan with non stick spray. Add kale, artichoke hearts, garlic, coconut milk, and lemon juice, stir and allow to cook for about 3 minutes. Add remaining ingredients (EXCEPT vegan cheese). Combine completely and cook until kale is wilted. Cover to keep warm and set aside
CREPE
In a small bowl, combine all crepe ingredients and stir completely. Spray a pan with non stick cooking spray and turn to medium heat. Pour ⅓ of the batter into the pan and allow mixture to spread out into a big flat pancake shape (you may have to tilt the pan to get desired shape). Cook for about 1 minute on first side, flip, cook another minute on opposite side. Transfer crepe to a plate to cool. Repeat to make 3 crepes.
Once crepes are cooked and cooled, spoon ⅓ of the mixture into each crepe and add 1 TBS cheese. Fold crepe over.
Reheat pan. Spray with non stick cooking spray and turn to medium heat. Lay each filled/folded crepe in the pan and allow cheese to melt through (cooking for about 2 minutes on each side). Transfer to a plate, and drizzle with additional ½ tsp honey.
Enjoy!
Notes
To make Chia Egg: 1 TBS chia seed mixed with 3 TBS water, put in fridge for 15 min to set

You may want to add some extra honey or salt to your finished product depending on your desired taste!
Even though Keith ate most of these, I still managed to sneak in a bite…or 4
**On another note, My ebook (CO-created with the beautiful and talented Jane over at Fit For Broadway ) is almost done!!! More updates for release date, and event coming VERY soon!!!
(Visited 4,789 times, 30 visits today)