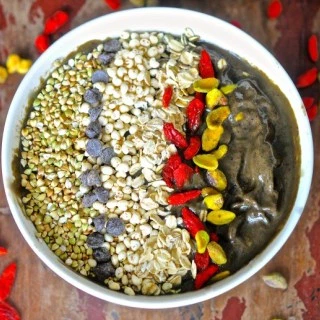 We live in a society that is constantly eating on the run. As hard as I try to make time for my meals, once in a while I'll have a day where I I'm running to the subway, to an audition, to rehearsal, to a workout, to a client and then finally home! On days like that, I try to start my morning with a meal that is high in healthy fats, proteins, and carbs. Eating a well-balanced breakfast keeps me satisfied longer, and provides the energy needed for a busy day.
Sometimes, that breakfast is a bowl of oatmeal, quinoa, or buckwheat groats
Other times, it's Ice Cream.
…well… Ice cream "Cookies to Kale" style!
I'm in love with this Chocolate Ice Cream Breakfast bowl because it is SO easy to make. Seriously it takes about 5 minutes to blend it together, and add all of your favorite toppings. The other reason I am in love with it? Well, anything that is called "Chocolate Ice cream" is a winner in my book. This stuff seriously tastes like soft serve. A secret ingredient provides a thick and creamy texture, and the perfect amount of cacao powder lends to a super satisfying chocolate flavor.
I also love experimenting with fun toppings that provide awesome textures. I love how the crunch of nuts and raw buckwheat perfectly contrast chewy goji berries and quinoa puffs! So, get creative, get inspired, get your blender, and make some ice cream for breakfast!

Chocolate Ice Cream Breakfast Bowl
This Chocolate Ice Cream Breakfast Bowl is the perfect way to start your day. It's got healthy fats, proteins and carbs that will help you feel energized without weighing you down! Vegan, paleo, gluten free and refined sugar free!
Ingredients
Ice Cream
¼ avocado
½ frozen banana
⅓ cup frozen blueberries
2½ TBS cacao powder
1-2 packets stevia
1 tsp vanilla
about 4 ice cubes
handful kale or spinach (or both!)
pre-brewed coffee (about 1 cup) or milk of choice
1 TBS Protein Powder
½ tsp chia seeds
optional: Spirulina
Optional Toppings: pistachios, raisins, goji berries, quinoa puffs, raw buckwheat groats, chocolate chips, raw oats etc
Instructions
In a blender, combine all "Ice Cream" ingredients
Blend on high (you may need to add more liquid depending on the thickness)
Transfer to a bowl and add desired toppings
ENJOY!
Notes
check out my
Must Have Ingredients
for my recommendations on Protein powder, spirulina, chia, and any other "weird" ingredients!
When making your morning coffee, make a little extra and store in the fridge for smoothies! Milk or even water can be substituted, but coffee helps to bring out that chocolate flavor :)
Who says you can't have ice cream for breakfast!?!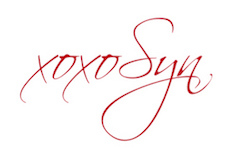 (Visited 927 times, 2 visits today)