We eat with our eyes. It's true! The more beautiful a presentation, the more we want to gobble it right up! I could spend hours (and sometimes do) looking at beautiful photos of meticulously constructed food. Sometimes, I'll run to my kitchen and try to bring that yummy photo to life! Once in a while, I'm successful, a lot of the time I'm not. But hey, it's about how it tastes right?!?!??!!
One dish that literally anyone can make look beautiful is a parfait! You just have to choose delicious flavor combination, grab a glass, and layer it up! In my opinion, seeing the gorgeous colorful layers inside a tightly packed glass is crazy gorgeous. The best part? IT'S CRAZY YUMMY!!!
First, you decide on flavors. For this one, I chose Cherry and Coconut.
First, you create your chia seed pudding!
Cherry Coconut Chia Seed Pudding
Chia seed pudding is fun and easy to make! Chia seeds are super foods. They are packed with protein, aid in digestion, help with hydration, and have tons of vitamins!
Recipe type:
Chia Seed Pudding
Ingredients
1 cup coconut milk
¼ cup chia seeds
½ cup frozen cherries chopped
2 TBS shredded coconut
½ stevia packet (or more if you like things really sweet)
cinnamon
Instructions
Combine all ingredients in a jar
Shake and mix well
Leave in fridge overnight
In the morning, your pudding is ready!!
Ok. Now you've got your chia seed pudding base!  Here's where the fun starts!!!!
How to Make a Parfait
In a bowl, microwave 1/2 cup oatmeal with 1 cup water (add sweetener if you want)
Chop fruit of choice (cherries, banana, blueberries etc)
In a glass, layer chia seed pudding, oatmeal, shredded coconut, and fruit on top of each other
Enjoy your Chia Seed Pudding Parfait!
The best part about these guys, is there are no rules! Don't have coconut, no problem! Use nuts, or chocolate chips! Don't like oatmeal? Use you're favorite cereal, or omit and replace with different fruits! Don't like cherries? Make it strawberry, banana, blueberry, blackberry, pear, peach… ANYTHING YOU WANT!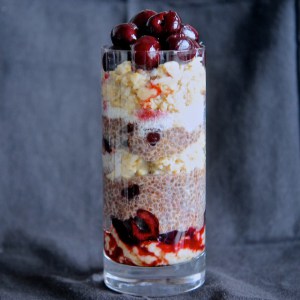 If you're feeling Really WILD AND CRAZY make your Oatmeal Chocolate! Simply add 1-2 TBS cacao powder,  (or coco), 1/2  packet stevia and a pinch of salt to your oatmeal. Follow the above steps, and you've got a chocolatey parfait of deliciousness!
I love these because the fruit blends really nicely within the other ingredients. They are so easy to make, and really wow just about anyone! Besides, you'll feel so fancy eating a tall, gorgeous, healthy, beautifully prepared breakfast!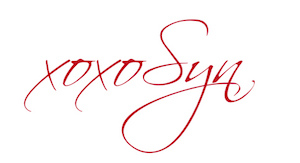 (Visited 4,136 times, 10 visits today)