I have been getting lots of requests on how to make a simple zucchini pasta dish. This makes me super excited for a number of reasons! 1) I clearly love creating recipes and sharing them on my blog with all of my amazing readers 2) This means that zucchini pasta is becoming more popular!
Using zucchini (or other vegetables) in place of traditional pasta is a fantastic way to reduce calories and up your veggie intake. Here's another reason you may want to substitute vegetables
(I'm about to get a little bit scientific on you guys) When you eat refined carbs (white pasta, white rice, breads etc) they are converted to sugar in your body. This sugar makes the pancreas release insulin. When your body has an excess amount of glucose (sugar), the increased presence of insulin turns that sugar to fat. That fat is stored in your body and well..you get the idea.
Unfortunate, I know, but those are the facts folks!
Now, I will admit, a big bowl of pasta is absolutely delicious. I will also admit that a big bowl of this Greek Zucchini Pasta is just as delicious! It's simple, fast, and is loaded with colorful, nutrient rich vegetables.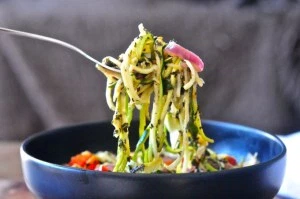 See those gorgeous zucchini noodles? They're made with my trusty Paderno Spiralizer. Now, if you don't already have a spiralizer, do yourself a favor and get one! Not only are they pretty cheap ($35.00), but they are really easy to use (definitely kid friendly). I can't even explain how exciting it is to see those beautiful little spirals being created. I know it sounds crazy, but I swear, I have so much fun using my Spiralizer.
(Note: if you buy the spiralizer from the link in my site, I get a small commission which helps to support the cost of this blog  

Greek Zucchini Pasta
This Greek Zucchini Pasta recipe is absolutely delightful. The lemon caper vinaigrette rounds out the dish beautifully. Traditional greek flavors are utilized to create a healthy and delicious meal!
Ingredients
1 large zucchini (spiralized)
3 TBS water
½ cup red bell pepper chopped
⅓ cup kale chopped
3 mushrooms sliced
⅛ cup red onion chopped
3 canned artichokes sliced
1 TBS fresh basil torn
1 garlic clove minced
1-2 TBS sun dried tomato sliced
Salt and Pepper to taste
LEMON CAPER VINAIGRETTE
1 TBS capers
½ lemon
1 tsp olive oil
1tsp apple cider vinegar
½ tsp dried basil
Instructions
First Make Lemon Caper Vinaigrette
in a small bowl, crush 1 TBS capers with the back of a spoon
add remaining ingredients and combine completely. Set aside
Spiralize Zucchini (See note if you don't have a spiralizer) and prepare veggies
Spray a pan with non-stick cooking spray
Cook garlic and onion in pan over medium heat for about 2 minutes
Add water, bell pepper, mushrooms, fresh basil, sun dried tomato and kale
Cover and cook until soft (about 5 minutes)
Add spiraled zucchini, sliced artichokes, and Lemon Caper Vinaigrette
Stir completely
Cook for about 2 minutes or until zucchini is "al dente"
Transfer to bowl or plate and enjoy!
There you have it. Fast, simple, delicious, refreshing and refined carb free!!!
I also wanted to add that I'm taking on new clients right now. If you are interested in learning more about working with me, check out my health coaching info page.
You can also email me directly at [email protected]
(that goes for health coaching inquires, or any other questions you may have!)
I'd love to hear from you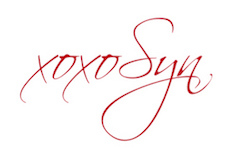 (Visited 4,192 times, 5 visits today)