So, sometimes you go to an amazing wedding where there is amazing food, and you just can't say no to ANY of it because, well, it's all AMAZING!!! Rewind to yesterday, where I attended a wedding that was just that. I danced, I ate, I drank, and  I was merry!!! I enjoyed every moment, even the doughnuts, and today, my body has hit a wall.
(Keith and I riding the Governor's Island ferry for the ceremony, and then taking the double-decker bus to the reception!!! SO MUCH FUN!)
It is completely normal for the body to feel what people like to call a "food coma". It is similar to a hang over (I mean…you know what I'm talking about). Your body is trying to process all of those sugars, calories, fats, carbs etc, and it is working in overdrive to do it. You are left feeling sluggish, tired, bloated, puffy and sometimes resentful. In my opinion, the best way to combat these sorts of things is by giving the body a good week of CLEAN eating, TONS of water and intense exercise.
Today= Lots of water, lots of exercise, lots of greens, and NOTHING processed.
After my workout today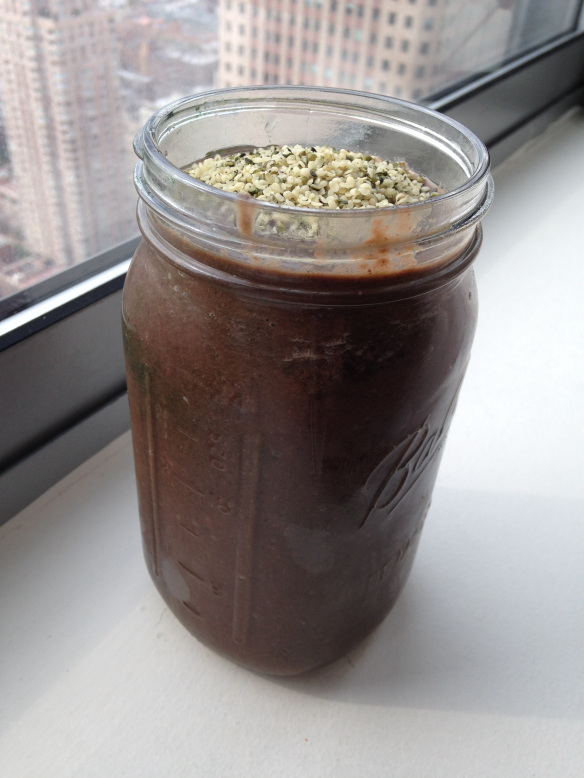 This guy may not be the most beautiful, but he is packed with nutrients!
Blueberry Beet Protein smoothie
1 large raw beet (If you are using a strong blender use raw, if not, use steamed)
1/2 cup blueberries
kale (I don't measure, but I use a lot)
1 tsp Chia seeds
1 tsp spirulina powder
1/2 cup coconut water
1 cup coconut water
1 scoop protein powder (I use Rice protein)
ice
stevia
(water if needed)
optional: I like to top my smoothies with 1 TBS hemp seeds!
Add all ingredients and blend!
Dinner:
Salmon, 1/4 cup quinoa, steamed kale, 1/2 sweet potato, 1/3 avocado, artichoke hearts
This is my go to dinner when I've had a long hard day. The salmon is super simple to make
Simple Salmon
4 oz salmon
fresh herbs of choice (I use rosemary, basil, and chives)
2 cloves garlic (crushed)
1/2 lemon sliced (4 small slices)
pinch of salt and pepper
Spray a pan with cooking spray. Chop herbs, and evenly distribute both the herbs and crushed garlic over the salmon. Squeeze lemon over salmon (I usually throw the entire wedge into the pan). Sprinkle with salt and pepper. Cook through (depending on how you like your salmon.. I like it medium rare). ENJOY!
On another note, I am teaching my first public flywheel class next week!!! (67th and Amsterdam… 150 Amsterdam)
xoxoSYN
(Visited 306 times, 1 visits today)