I have an obsession and it's called tahini. I literally put it on everything. I love its creamy texture and smoky taste. I am convinced that it's my perfect condiment. Tahini is simply a paste made from sesame seeds. When you blend it together with the right ingredients, it forms a gorgeous sauce that is to die for.
I have another obsession. When I hear that something is in a "bowl" I want to eat it. I know, it's weird, but what would you rather eat: roasted vegetables and quinoa, or a roasted veggie quinoa BOWL. Yea.. thought so.
(I know there are other foodies out there that agree with me on this!)
I decided to pre-prepare this beauty bowl in the morning (anyone who follows my instagram saw me post a picture at 8:50 am of my roasting veggies!). Since mother nature decided to throw another temperature drop at us here in NYC, I knew that I would want something warm and filling for dinner.  I find that planning ahead helps me big time when trying to make healthy choices. I simply roasted my veggies, put them in a Tupperware, and threw them in the fridge. They were super yummy when reheated, and proved to be everything that I wanted. Warm, filling, flavorful and delicious!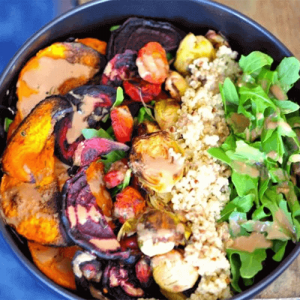 Roasted Veggie Tahini Quinoa Bowl
This Roasted Veggie and Tahini Quinoa bowl recipe is absolutely gorgeous. With the perfect blend of flavors and textures, it is sure to be a fast favorite!
Ingredients
FOR THE BOWL
¼

cup

Quinoa Cooked

1

cup

Arugula Raw

(Spinach Or Kale Would Be Perfect Too)
Roasting Veggies:
¼

Small Butternut Squash Sliced

1

Beet Sliced

1

Carrot Sliced

1

Shallot Sliced

½

cup

Brussels Sprouts Halved

Herbs and Spices: Rosemary, Thyme, And Sea Salt
FOR THE SAUCE (MAKES about 2 servings)**
¼

cup

Tahini Paste

juice of ½-1 lemon (I like it lemony!)

Pinch Of Salt

1

tsp

Honey

2

tbs

Water

1-2

tbs

Balsamic Vinegar
Instructions
Preheat oven to 450 degrees

Peel and prep Roasting Veggies (see THIS POST on how to peel a butternut squash)

Line a baking sheet with tin foil and spray with non-stick cooking spray

Lay veggies on sheet (try not to overlap) and spray the top of them with non-stick spray

Sprinkle herbs and spices on top (as much or as little as you want)

Roast for about 40 min, flipping half way through (keep an eye on them to prevent burning)

Meanwhile combine all sauce ingredients in a food processor or blender. (add 1-2 TBS balsamic vinegar depending on how strong you like that taste)**

In a bowl, combine raw arugula, quinoa and roasted veggies. Top with desired amount of sauce (about 2-3 TBS)

Enjoy!
Notes
You can buy Tahini sauce pre-made at the store. Simply combine 2 TBS pre-made tahini sauce and 1-2 TBS balsamic vinegar together
If making your own sauce and you don't have a blender or food processor, simply put ingredients in a jar and shake!
Winding Up:
If you've never tried Tahini, jump on the bandwagon!! If you're not a big fan, try substituting a different sauce to top this bowl. Regardless, the contents are healthy, nutrient dense, flavorful, bright and refreshing!
Happy Cooking!