Hey all!!!
So I am often asked "How the heck do you cook ________(insert veggie name here)?!". There are tons of delicious vegetables out there just waiting to be tried, and lots of people just don't know how to cook and enjoy them. You'd be surprised that by simply preparing a veggie in a new way, it can quickly become a new favorite.
I have decided to do "The Veggie of the Week". I am going to pick a veggie each week and post a fun recipe featuring it!
This weeks veggie is…
Cauliflower is AWESOME. This amazing veggie is high in vitamins, a natural cancer fighter, super high in fiber, and an anti-inflammatory (to read more click!)
When I was at the store and saw that they had a yellow cauliflower I just had to buy it. It tastes exactly the same as the traditional whites
This gorgeous Yellow Cauliflower turned into this….
 Cauliflower Rice and Egg White Bake
serves 2… or one very hungry human!
1/2 head of Cauliflower (any color)
1/2 TBS Coconut oil
1 clove of garlic
1 tsp dried basil
salt and pepper to taste
4 egg whites (do not combine.. they need to be separate)
1/4 cup cheese of choice
1 TBS Nutritional Yeast (Or parm cheese)
sliced baby Portobello mushrooms (sliced)
kale (About 3-4 leaves removed from stalk and chopped)
4 medium tomatoes halved ( I used vine but any will do)
Optional: Hot sauce
TOOLS: Blender, oven safe skillet
Step 1: Preheat oven to 450 degrees. Slice tomatoes in half. Spray baking sheet with non stick spray. Lay tomatoes on sheet, sprinkle with salt and pepper and bake for about 10 minutes or until soft  (flipping half way through)
Step 2: Meanwhile, break cauliflower into pieces and blend until you get a rice like consistency. (If you don't have a blender, use a cheese grater!)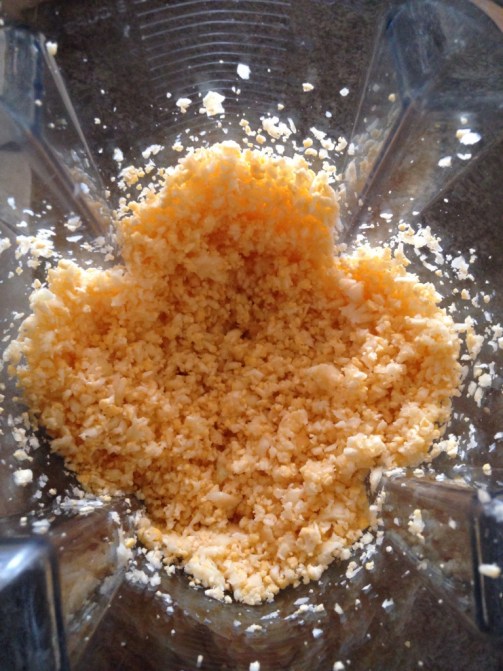 Step 3: spray skillet with non stick spray, and combine mushrooms, kale and garlic. Cover and Cook until soft (you may need to add a little water)
Step 4: Add cauliflower rice, coconut oil, dried basil, salt, pepper, nutritional yeast (or parm cheese). Cook for about 5 minutes stirring often. **Keep an eye on your tomatoes!! at this point they should be about done DO NOT TURN OVEN OFF!
Step 5: Using a spoon, make small little "holes" in the rice. Take each egg white and fill the hole. Sprinkle optional cheese on top of the skillet and put the entire thing in the oven.
Step 6: Bake for about 7-10 minutes, or until eggs are cooked through (using an oven mitt, shake the pan. If the eggs are solid they're ready! Remove from oven. Top with roasted tomatoes.
(Some of the yolks got in there,,, I wasn't mad about it

))
I LOVE HOT SAUCE so I load up

I have had those for two nights in a row for dinner. I love how everything cooks into each other for a ridiculously delicious baked dish.
Moral of the story… DON'T be afraid of cauliflower!!!!!
I plan on posting at least one more recipe this week using cauliflower.. stay tuned 😉
xoxoSYN
(Visited 120 times, 1 visits today)